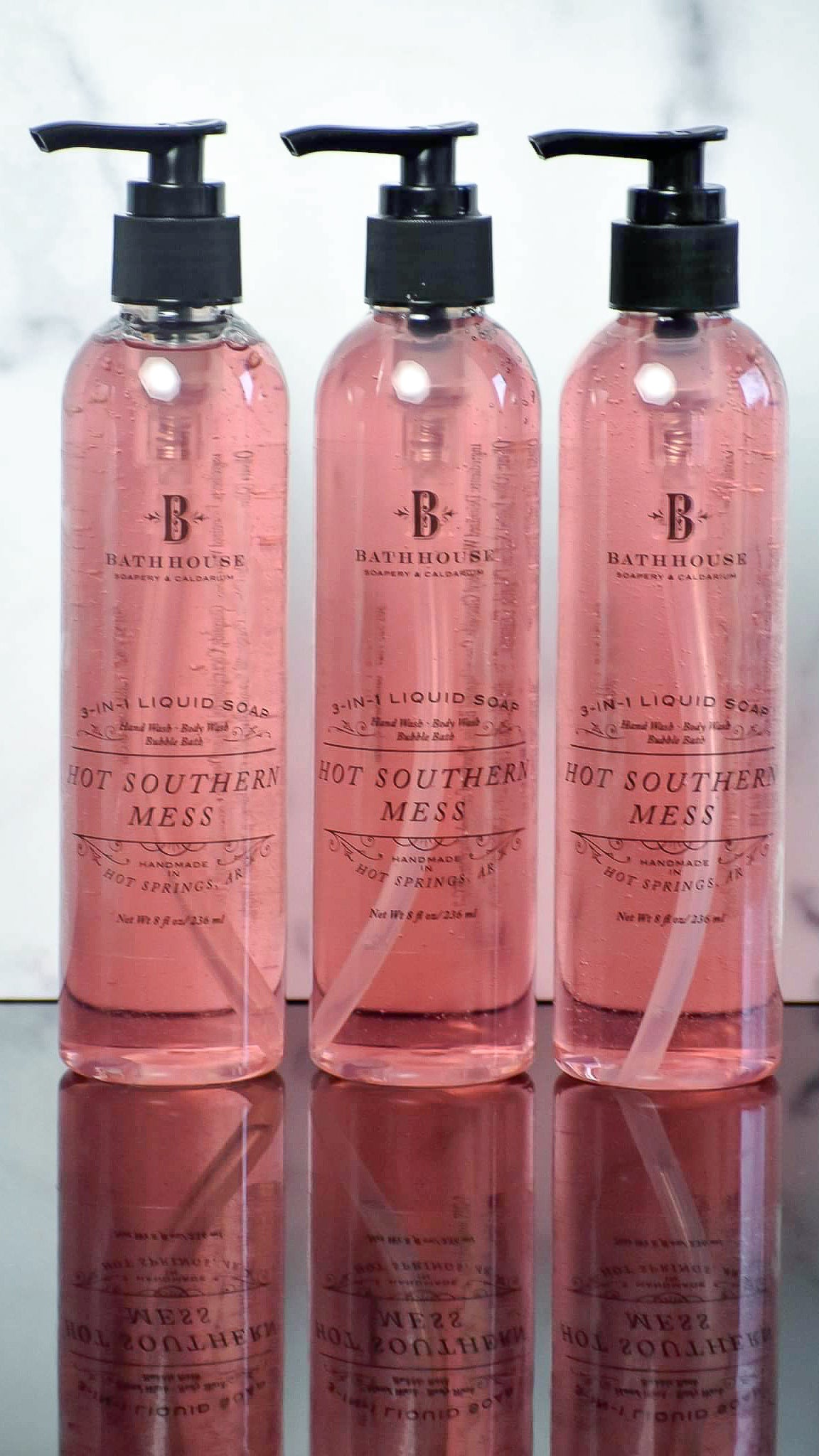 Hot Southern Mess 3-in-1 Liquid Soap
"Hot Southern Mess" is the aura of a southern woman that is sexiest with her girl-next-door appearance, can rock cutoffs and/or a ballgown, listens to Cash and JB Jovi, wears cowboy boots under her wedding dress, knows how to be wild and free while being the tie that binds her family. She knows how to use her accent to get her way, her eyelashes to bring him to his knees, and can tell you to go straight to hell with words dripped in so much sugar you'll look forward to the trip…..
….oh and the trip is scented with poppy, pomegranate, osmanthus and sugar cane….just like this soap.
Our luxuriously frothy and voluptuous 3-in-1 Liquid Soap is paraben-free and multitasks as a:
— Body Wash 
— Bubble Bath
— Shampoo
— Hand Soap (so technically, a 4-in-1!)
Our 3-in-1 comes perfectly packaged in a 8oz PET plastic bottle with a black pump cap, giving it a beautiful glass look… without the fear of breakage!
Ingredients: Deionized Water, Sodium Laureth Sulfate, Cocamidopropyl Betaine, Cocamide DIPA, Organic Aloe Barbadensis (Aloe Vera) Leaf Extract, Hamamelis Virginiana (Witch Hazel) Distillate, Organic Chamomilla Recutita (Chamomile) Flower Extract, Citric Acid, Sodium Chloride, Phenoxyethanol, Hexylene Glycol, Caprylyl Glycol, Ethylhexylglycerin, fragrance, FD&C Blue #1, FD&C Red #40.